RNLI
The Experiment
This was the start of Echo Point .
In response to the "Design Out Drowning" programme call out centred around the coastal mental health I proposed the critical question " Can engineered sounds in specific locations calm negative emotions".
I believed that the use of positive sound triggers could change behaviour and be used as a intervention to change local perception of troubled spots and for local architecture / street furniture to be acknowledged as wellbeing spaces by researching the importance how a negative environmental perception can be changed by reframing nature in a beautiful positive manner via the use of engineered sound.
I wanted to test whether my concept of Echo Point could be a shared responsibility intervention project in its physical terms, impact on outreach and delivery, and the results of which will be acknowledged in the creation of a safe place supported by the redirection or negative vulnerable thoughts.
It was vital to measure and engage with the community to see if it would have any positive effect on:
Community ownership
Responsibility
Collaboration
Safety and Grounding
Empathetic Engagement
The information gathered by the series of engagement sessions was to be the foundation to produce an overall robust successful interventional piece formulated through positive collaboration focusing on local positive behaviour change.
This was carried out by small steering groups created to test both the physical space and the soundscape.
The soundscape was tested with listening groups and data was collected and impact of their well-being on a physiological scale by using a pip device, this measured skin galvanisation and heart rate and can prove immediate results upon feeling more relaxed. The skin pores on your fingertips are extremely sensitive to changing levels of stress. Pip accurately captures these changes and through biofeedback, allows you to visualise them. It achieves this by detecting variations in your electro dermal activity (EDA).
There were two out reaches together data both physical and online.
This was to add:
Social inclusion
Awareness and responsibility
Ownership of digital empathy
Creating positive mind-set in participants and contributors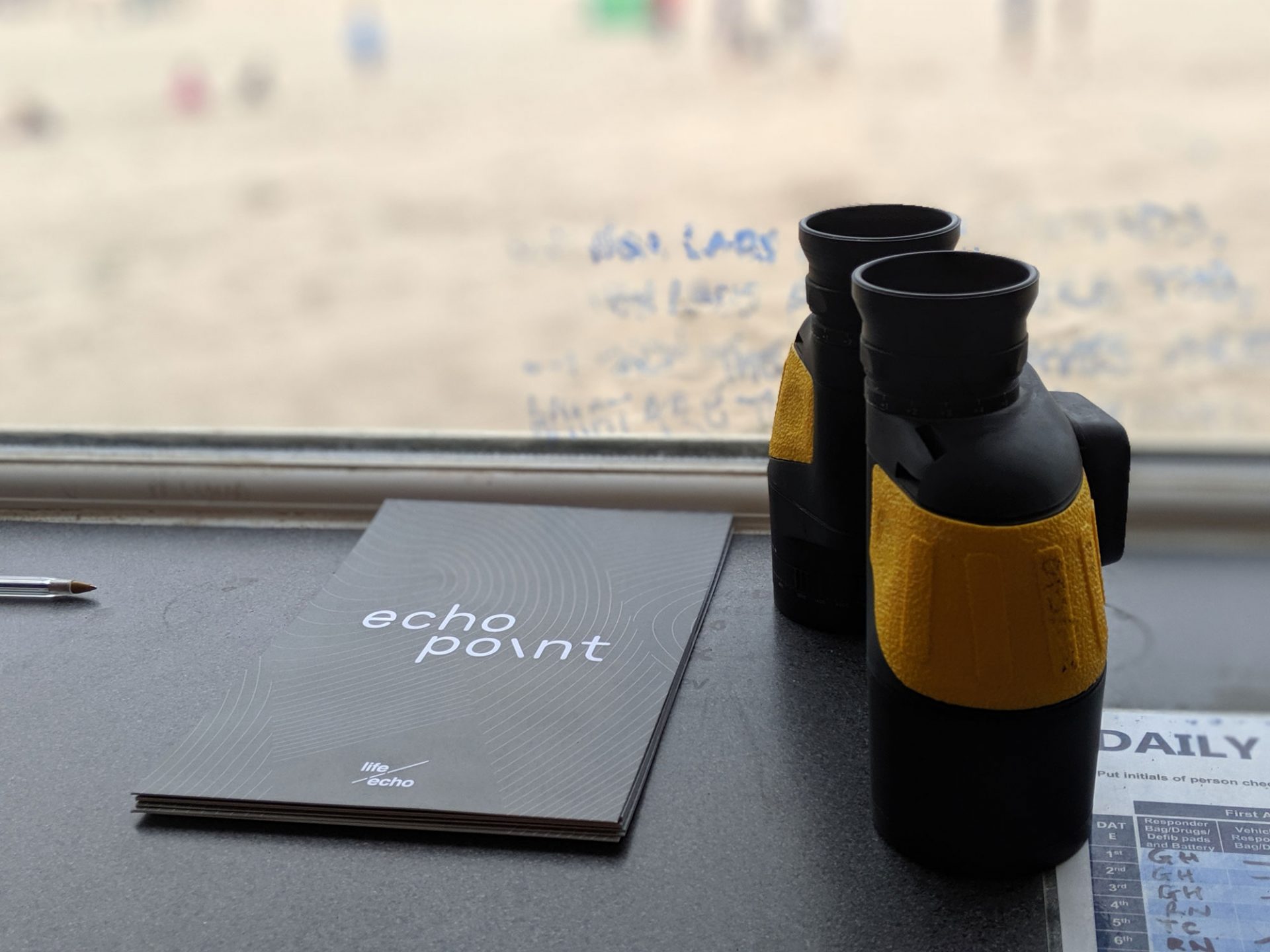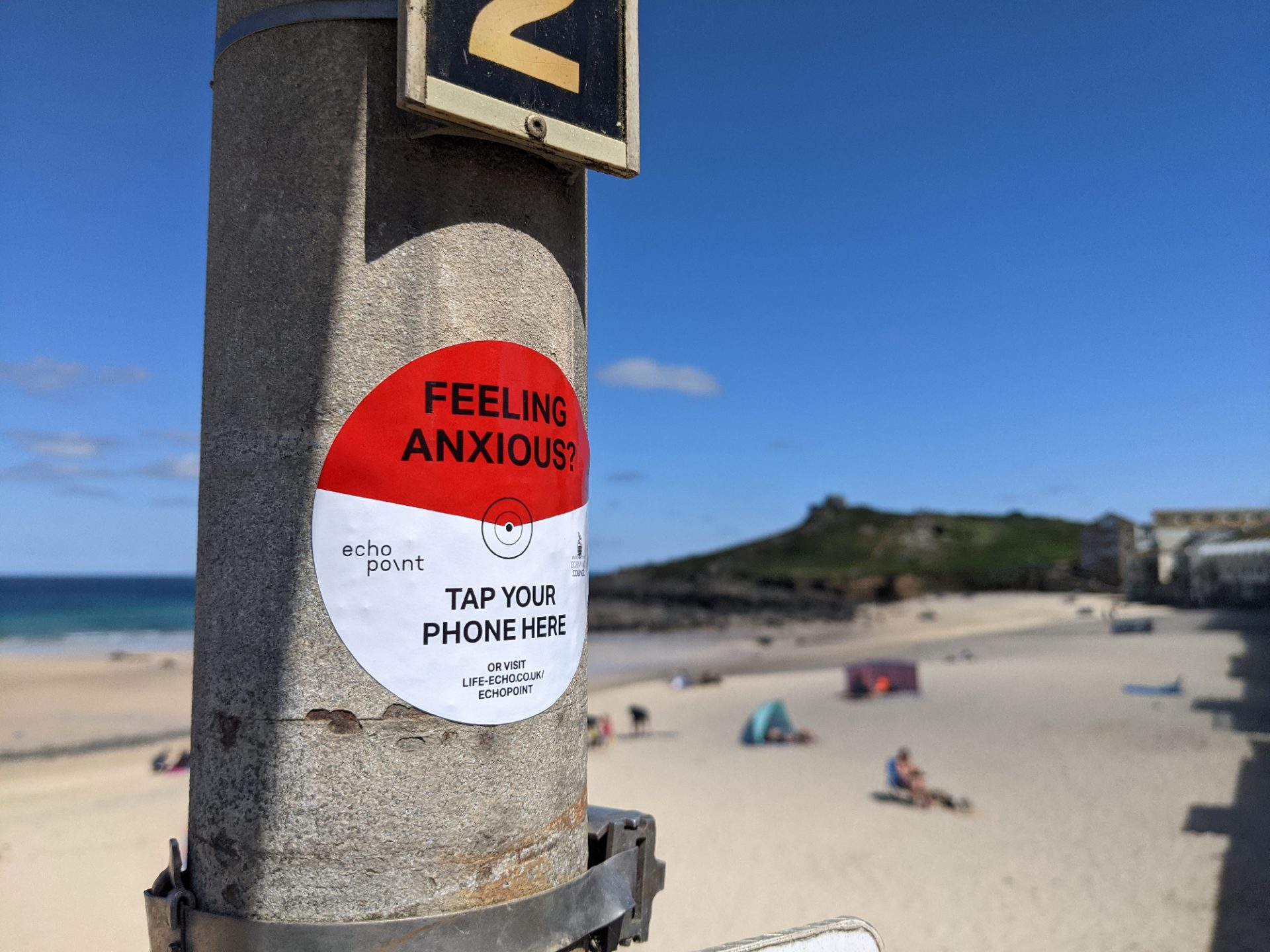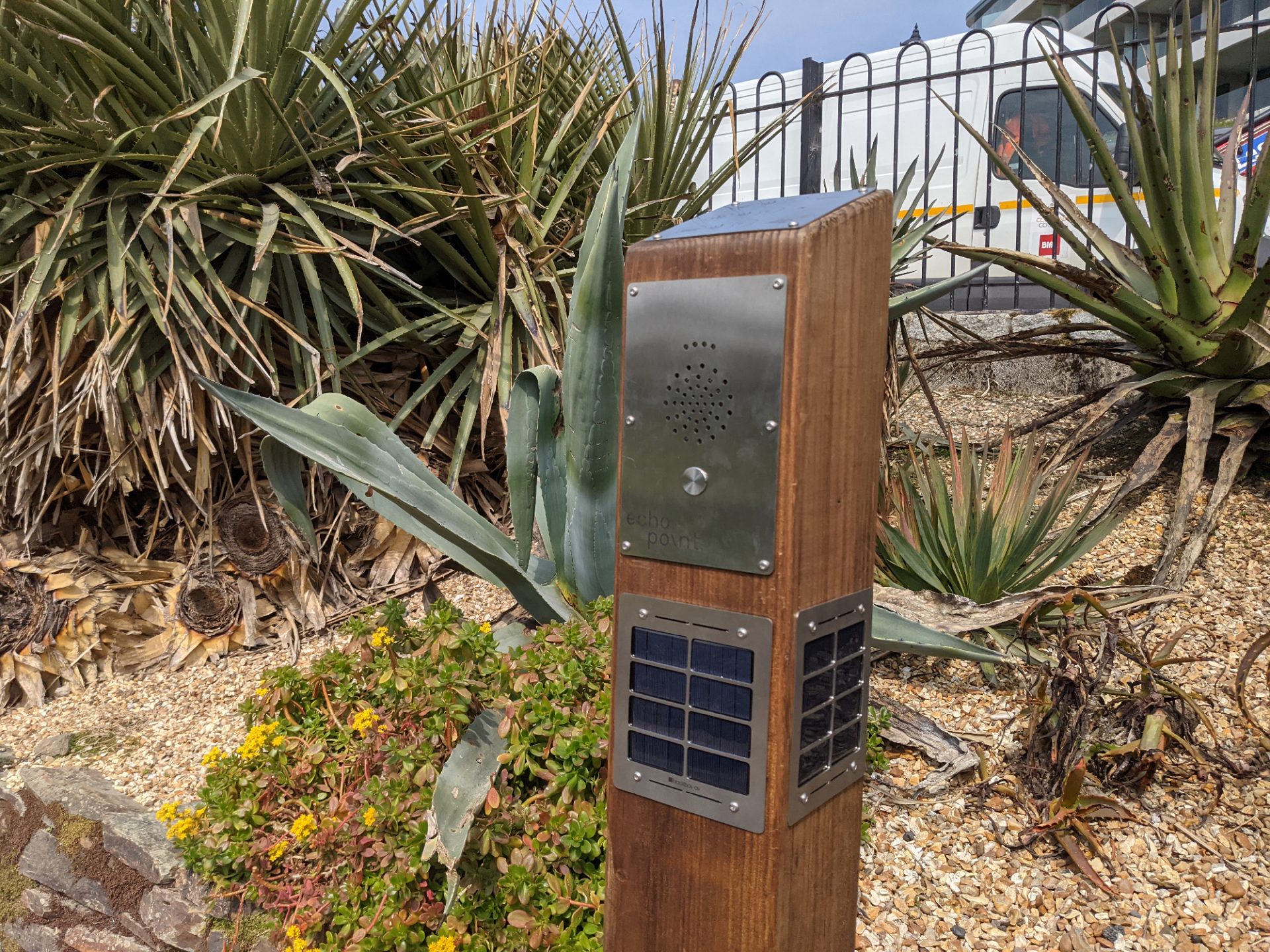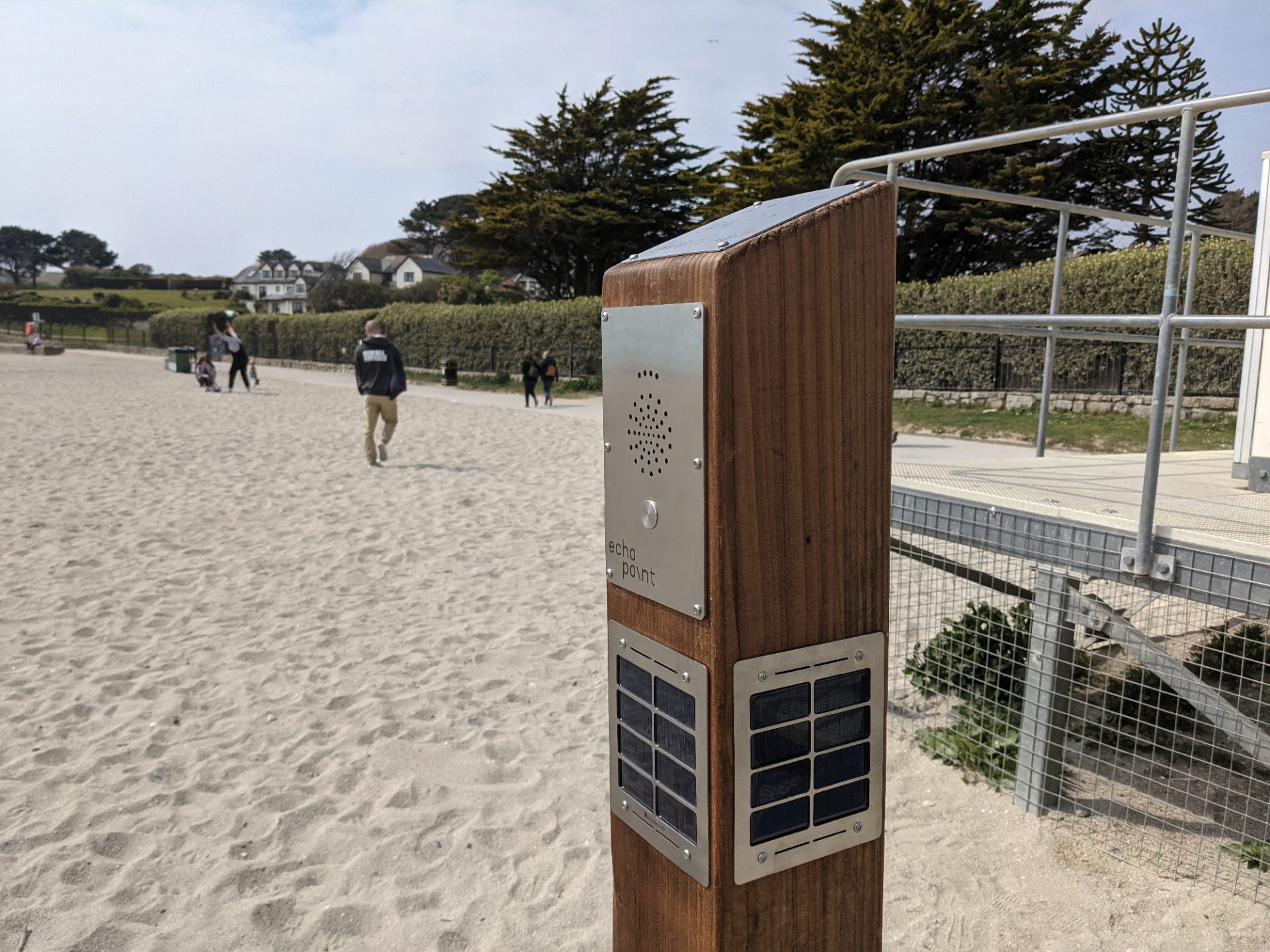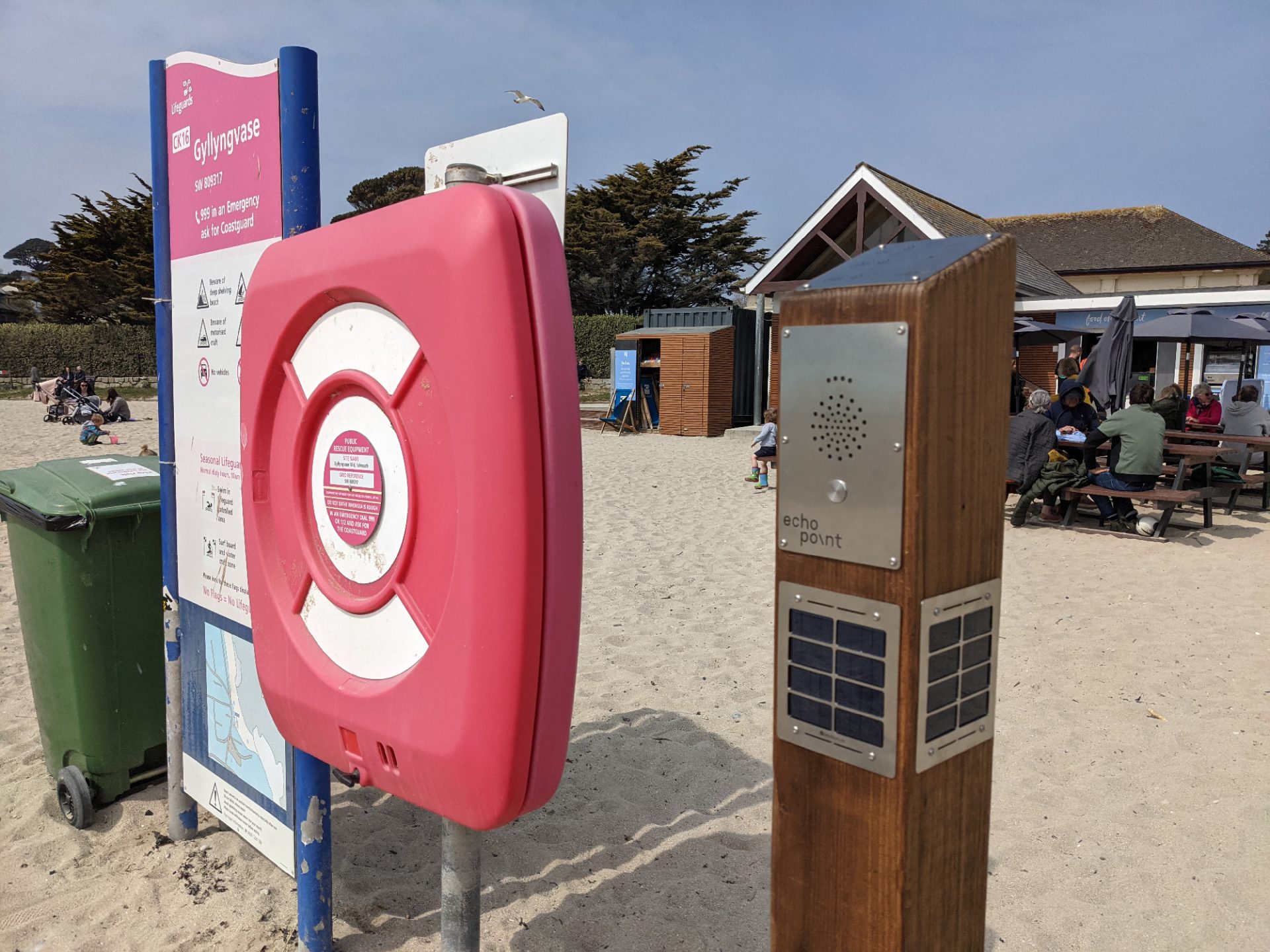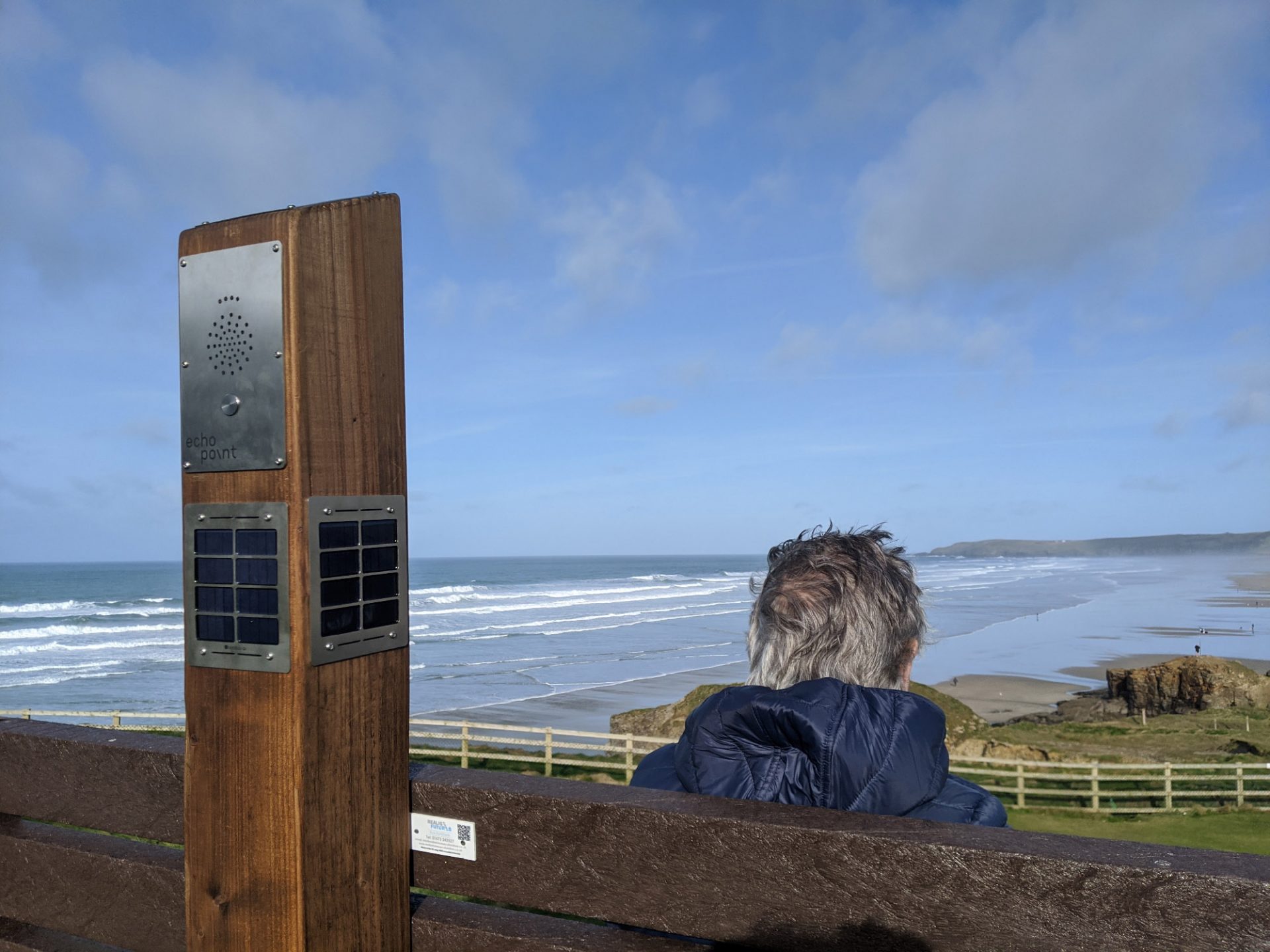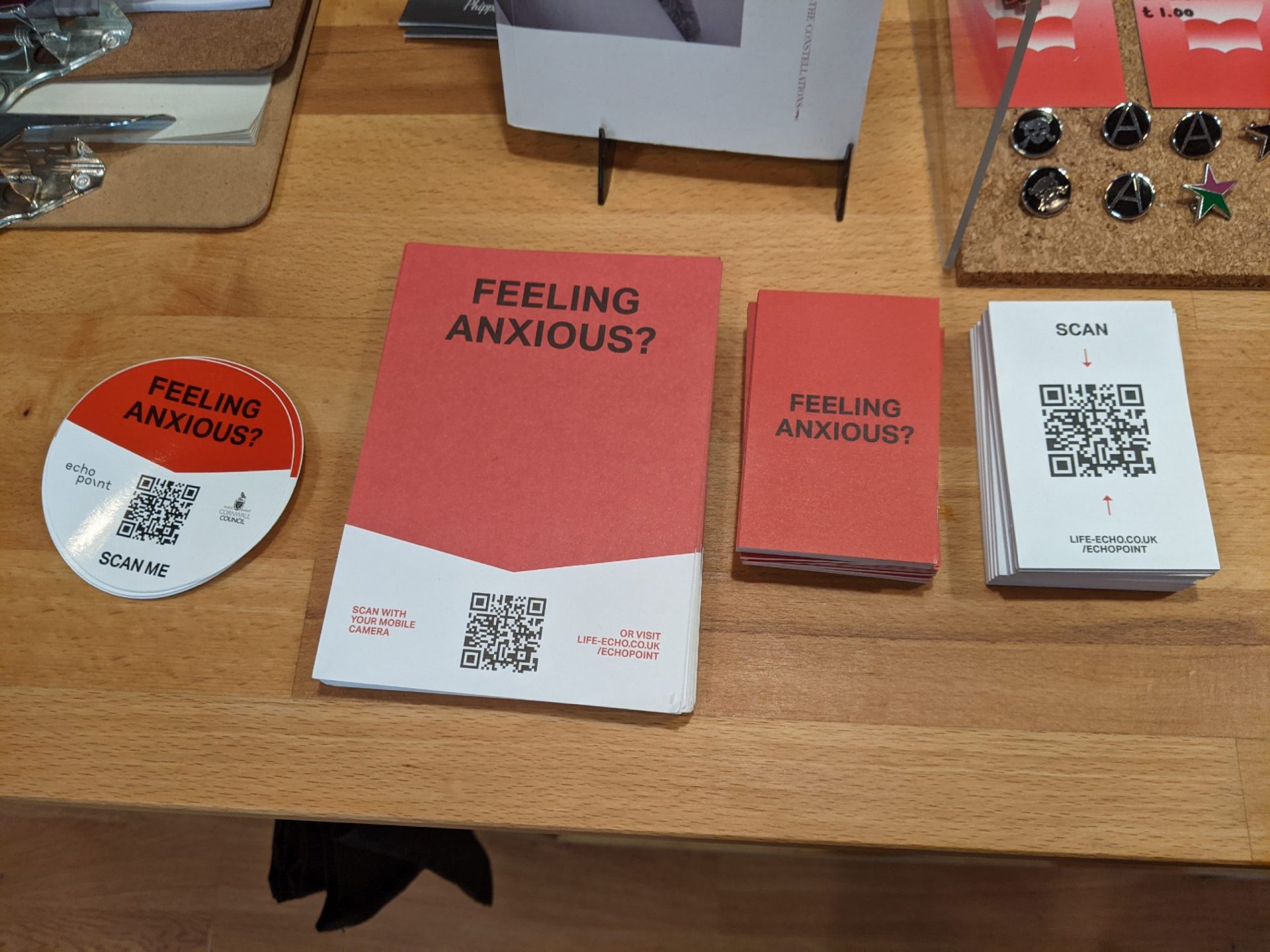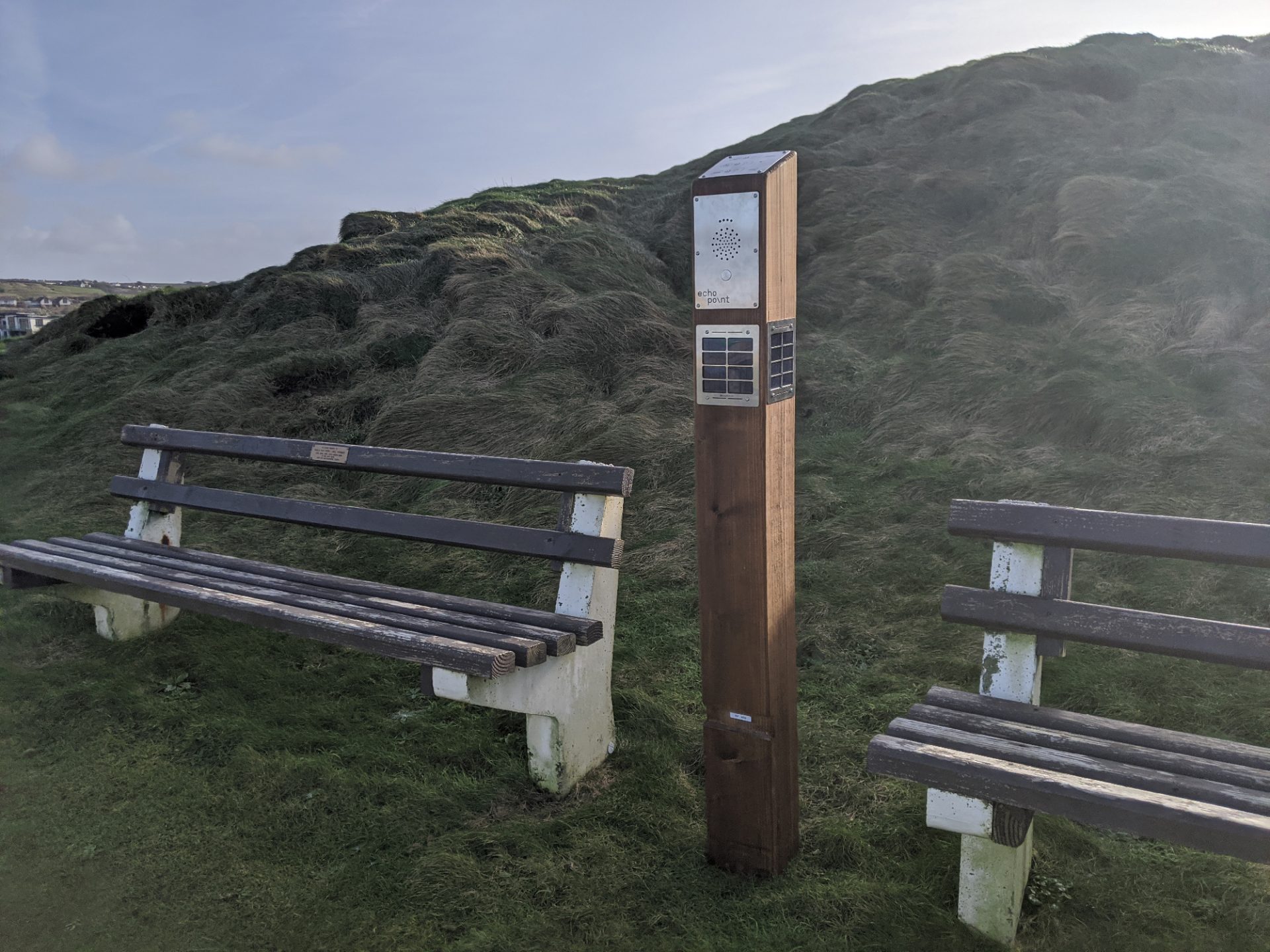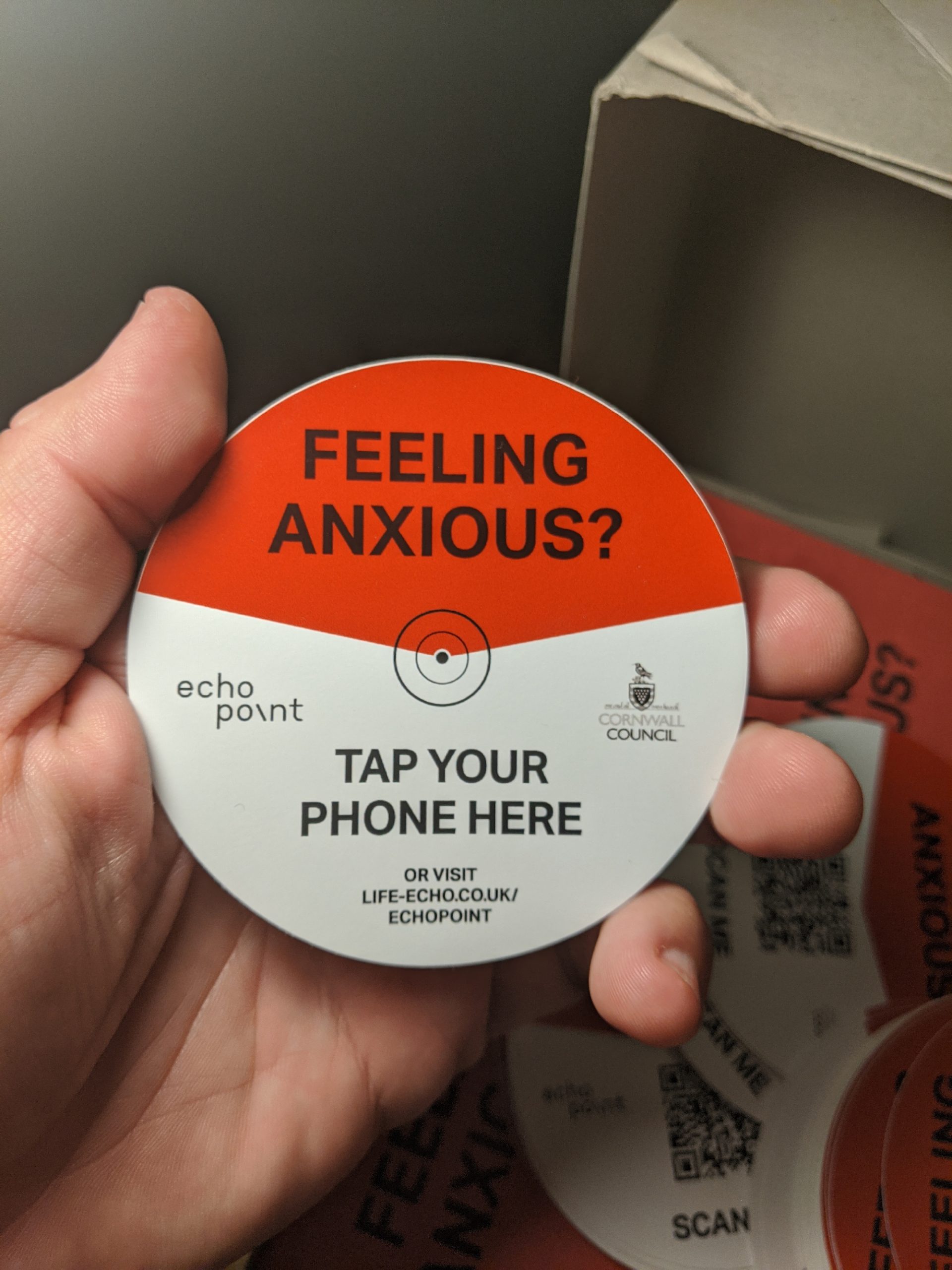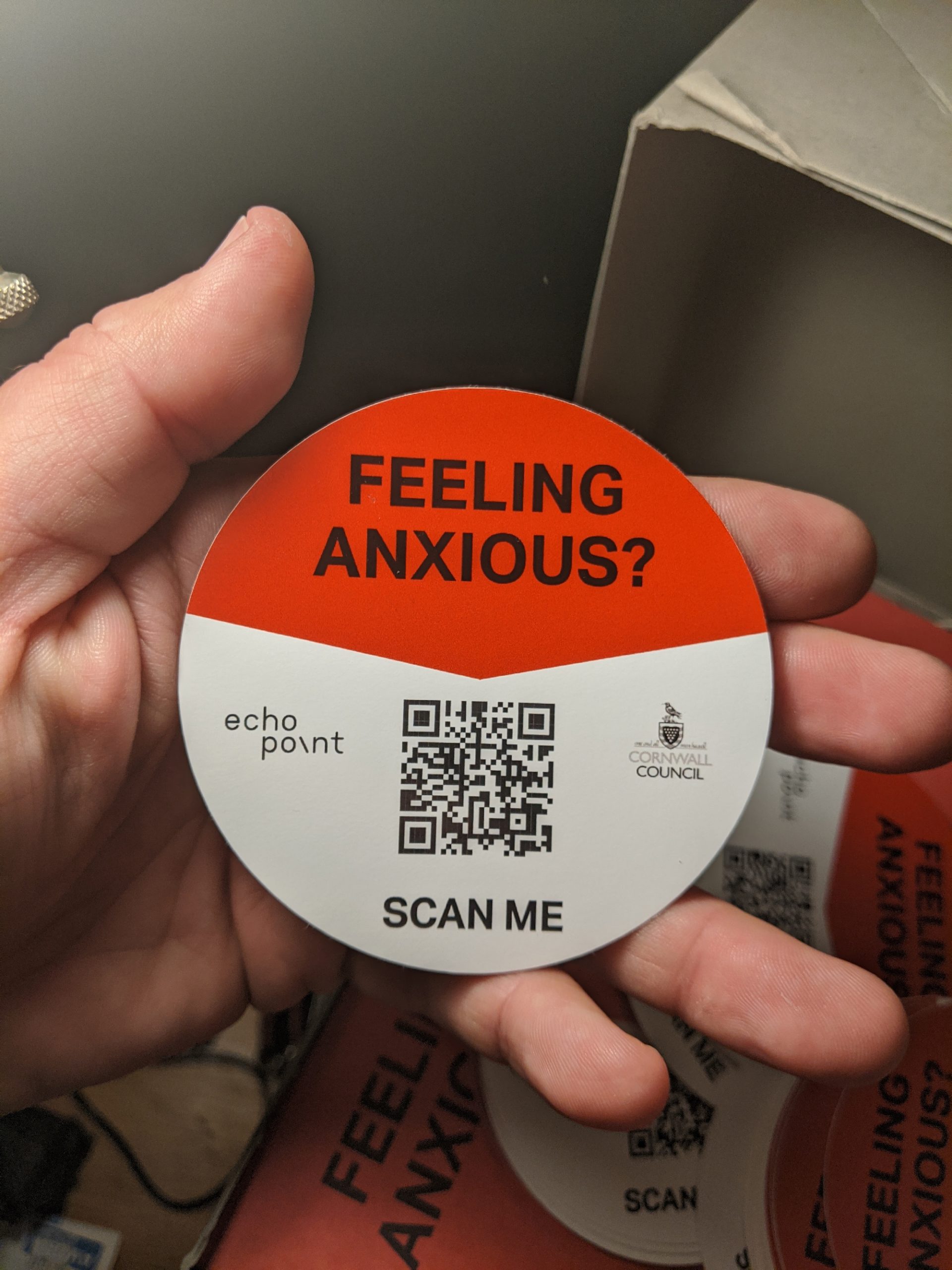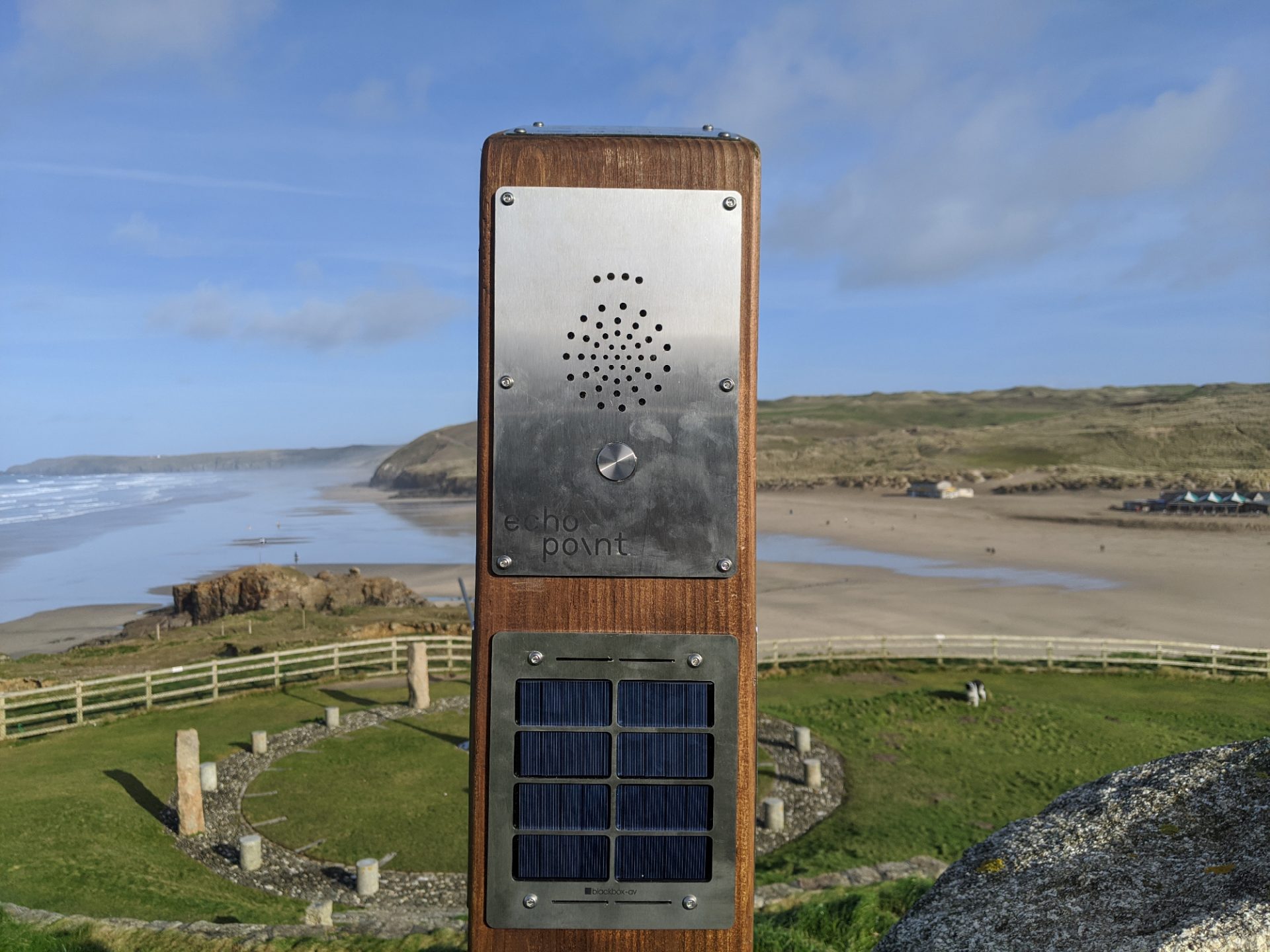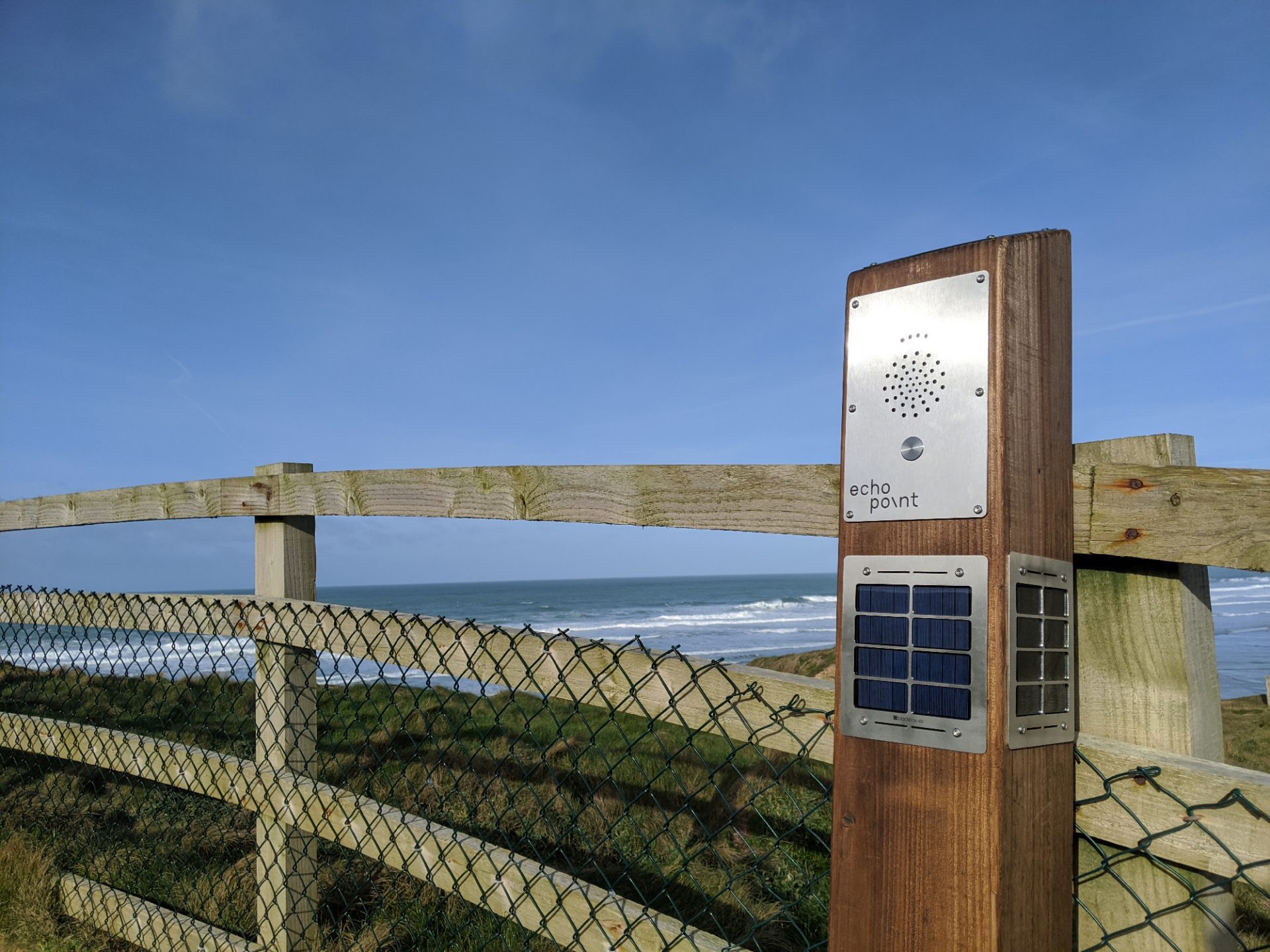 Phase 1 / Beach community
These offsite public intervention workshops based on the approach method, allowed myself to glean a body of responses using the spark cards questionnaires which comprised of 9 questions, varying from what instrument, animal, vehicle, sounds from work and sounds from nature make you calm and happy.
This intervention work had a value added impact also opened up the opportunity for the beach environment to be seen as a well-being space just through the act of asking the question. In effect intervention was the engagement.
Phase 2 / Digital community
There was also a national online survey requesting opinions on which sounds cause happiness. I trying to reach out to radio and media streams to get awareness of the project and gain extra robust research content.
This intervention engagement research was collated and fed into the data stream, of which will allowed me to get the strongest suggestions of correct information for the sound content.
Echo Point engagement sessions
Engagement sessions were run with:
Perranporth tea rooms
Ty Hafan Hospice Cardiff
St. Austell Hospice
Tolvaddon Fire Group
Domestic Family Groups
On Site Beach Engagement Group
On Line Response Group
Young Wild Parents Group
Woman's resilience group
Loss and grief café
Perranporth Surgery Group
St. Agnes Surgery Group
In Total 180 took part and 150k online reach.